Enjoying Tea and Coffee Without Plastic Sneaking In
Tea and coffee are soul-satisfying staples in many of our daily routines, but unfortunately the making of these beverages often includes plastic somewhere along the way.
Most single-use tea bags contain about 20-30% polypropylene plastic resin, and tiny plastic particles can leach into your drinks while steeping. There are also the "silk" tea bags, which are actually not so silk, and are really made of nylon. According to a recent study by researchers from McGill University, "steeping a single plastic teabag at brewing temperature (95 °C) releases approximately 11.6 billion microplastics and 3.1 billion nanoplastics into a single cup of the beverage."
Beyond tea bags, there are also the plastics in brewing machines, kettles, and cups. These plastics not only leach hormone disrupting chemicals, but can also contribute to landfill waste further down the line. When it comes to food and drinks, especially those that are heated, we recommend removing plastic from the equation completely.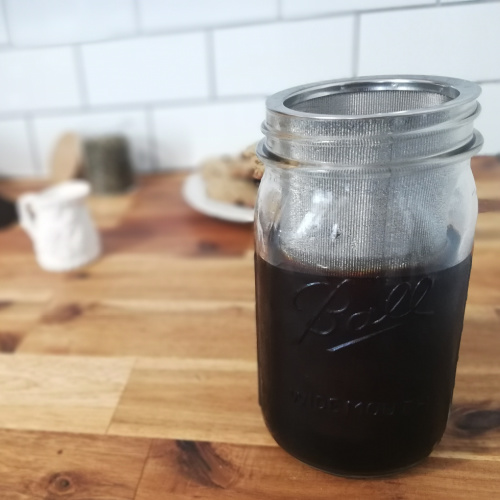 Our solutions? A simple, handy, plastic-free filter! It works with any wide mouth mason jar to make yummy cold brews of coffee or tea - of course, it's excellent for hot beverages too and even for making nut milks. These rust-proof, durable filters are crafted for long-term use, and are dishwasher safe, making for an easy clean between uses. Take a look here.
For the avid tea drinker, our certified organic cotton washable and reusable tea bags are 100% plastic-free and come in small, medium, and large sizes.They are also machine washable and can be reused over and over again! Check them out here.
Either of these options are much safer for you and the planet and are especially eco-friendly because they avoid anything disposable like filters, tea bags and tags - all while making yourself a better tasting and artfully brewed java or tea. And don't forget to compost your used coffee grounds and tea leaves for a truly zero waste brewing experience.
Espresso yourself without plastic!