More Information
Wow, that's fantastic service! I wasn't expecting a refund [for the shipping difference when two orders were combined into a single package]. :)

Living Water!? What do we mean by that, you ask? We recently had the pleasure of meeting the innovative Austrian musician, engineer and glass blower, Thomas Chochola. He is the founder and namesake behind TC Energy Design products. After years of research and development in the area of musical form composition and sacred geometry, he developed a completely new approach to design, creating form from sound. He has discovered specific forms which strengthen and stabilize biological vitality. The shape of TC Energy Design products is based on principles of music and the numerical
Fibonacci sequence
(0, 1, 1, 2, 3, 5, 8, 13, 21 etc -- each subsequent number is the sum of the previous two), a progression which forms the basis of many structures in the natural world, such as the spiral of shells, growth patterns of leaves, and the petals of flowers. The idea is that these glass vessels act as receivers and containers for restructuring energy and information that returns things to their true nature.
These products are designed to revitalize whatever liquid is put in them after three minutes simply by being within the unique form of the glass container. In our experience, the result is, for example, water that tastes lighter, fresher, fuller. You can fill them with any liquid - milk, juice, wine - and the effect should be the same. This is how the process is described by TC Energy Design: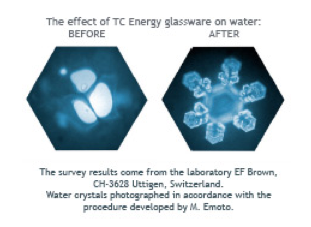 "TC carafes alter the structure of any liquid. The particular form of TC carafes vitalizes and energizes any liquid you want. Once in the carafe, the liquid starts vibrating. Resonance waves harmonically emerge and amplify each other, generating a new force field and more vitality. They create an energizing resonance pattern which improves quality and digestibility of any liquid. This resonance field is not only created on the inside, but also on the outside, filling your room with subtle waves of harmonic resonance.
The pictures above are examples of frozen water crystals and the strong energetic effect of TC carafes on the water molecule. The image on the left shows a sample of water before being placed in a TC carafe. The bottom image shows a water crystal from the same sample of water after being the TC carafe for one hour.
(Images courtesy of E.F. Braun Laboratories, Burgistein (Switzerland))"
If you would like to learn more about the concept and design of these products, please visit the
TC Energy Design website
. Apart from the revitalizing qualities of these products, you may be taken simply by the fresh beauty of the design of these undulating glass containers. They are literally one of a kind.
Please Note: TC Energy Design products are not connected with any statements about healing nor do they claim to influence the course of an illness. The use of TC Energy Design products does not guarantee any increased well-being. These statements have not been evaluated by the U.S. Food and Drug Administration. This product is not intended to diagnose, treat, cure or prevent any disease.